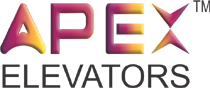 About Apex Elevators !
Specialized in machine room less lifts (MRL), Single phase Elevators
Apex Elevators is promoted by people with vast experience in this field. We are pleased to inform that Apex is one of the best-organized team of lift professional and engineers. We are offering the Lifts and Escalators with latest features and options at economical and affordable price range. Apex is committed to provide highest quality services during all stages of your project from new installation to maintenance of all makes and brands.

Apex building transport systems are technologically advanced to those available in the Indian market and suit Indian conditions. In addition to new installations, Apex will provide full maintenance and modernization services to get the most safe and efficient operation from your building transport systems.

The focus on professional service and reliability are the key attributes of this long business relationship that we would like to establish with you.
With our capability and flexibility , we can meet your all your requirements.