Call : +91-8744064146 Email : sales@apexelevators.com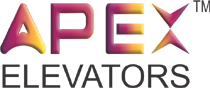 Branded Lift
At
Non Branded Prices

Special Offer For
Builders Lift
Specialized in machine room
less lifts (MRL), Single phase Elevators
Apex Elevators is promoted by people with vast experience in this field. We are pleased to inform that Apex Elevators is one of the best-organized team of lift professional and engineers. We are offering the lifts with latest features and options at economical and affordable price range. Apex is committed to provide highest quality services during all stages of your project from new installation to maintenance of all makes and brands.

Read More..
Business Associates Require
We Love To Serve You
---

Customised Solutions
You think it, we deliver it.We understand your world and offer widest variety of solutions to fit in.Will be happy to discuss with you and offer maximum customisation for your needs.

Hassle Free Installation
Our experienced & skilled deployment and commissioning team will ensure a lasting fittings to your elevator.

Upgrades & Modernization
Struggling with your Old and Out of Date Elevator, we can help. Our experienced team will offer best possible and cost effective retrofits and upgrades to your existing system or a complete change over.

Maintenance
We offer Great Value Annual Maintenance Contracts.Our agile team is every ready to serve you with a smile.
Testimonials
---
We are extremely satisfied with Apex's Product & Services. Have given them repeat order for our upcoming project. Rajesh Sharma, Tanishq
Strongly Recommend. Reliable and Quality Product. All the best for their future ventures. Anil Agnihotri, NTPC
Apex has supplied and installed elevators for us. They have good backup services. We are Happy to recommend them and wish them all the best.Rakesh Rawat, Toshiba
Apex team discussed in length about my requirement and provided great solution. Hats off to their experienced and dedicated team, excellent product. Rikki Bindra, Jindal
<
>
Get In Touch With Us
APEX ELEVATORS (P) Ltd.
WZ-1656 A, GROUND FLOOR, NANGAL RAYA,
Ph.:- +91-11-28523721 / 011-28524250
(+91-11-28523721),
(M):- +91-8744064146
Email:-sales@apexelevators.com
Copyright © 2016 All Rights Reserved. Hosted and Powered by Jeewan Garg